Nie rozważałam raczej sprzedaży, no chyba że ktoś będzie zainteresowany większą ilością, to proszę o propozycje na maila.
Najchętniej przyjmę lakiery takich marek jak
China Glaze, Colour Alike, OPI, Orly
etc, ale nie tylko, bo wiele tańszych marek również ma kolorki mnie interesujące, więc pytajcie.. Grunt żeby lakiery miały małe zużycie i nie były zaschnięte. Nie mam problemów z lakierami po dacie jeżeli tylko są w dobrym stanie.. Sama mam takich sporo, wiem że to nie dyskwalifikuje tych lakierów
Te które sama chcę oddać mają bardzo małe zużycie, zazwyczaj tylko na wzorniku, czasem raz czy dwa na paznokciach. Część jest po dacie, ale każdy z osobna sprawdziłam, wszystkie są w pełni wartościowe, luźne, nic im nie jest
Preferuję większe wymianki, wysyłanie jednego czy dwóch lakierów zwyczajnie nie jest opłacalne
Jeżeli coś Was zainteresuje piszcie proszę na maila w temacie wpisując WYMIANA.
A teraz legenda do zdjęć:
(D)
- po dacie (wszędzie tam gdzie datę znalazłam na buteleczce) - podkreślam, że każdy z osobna sprawdziłam, wszystkie są luźne i pełnowartościowe !!!
(W)
- sprawdzony tylko na wzorniku
(cyferka)
- orientacyjna ilość użyć

od lewej:
1. Veryme (D) (W)
2. Celia Floris Tulip #9 - (D) (1-2)
3. H&M Oh La La (2-3)
4. Oriflame Coral Red (D)
5. AllePaznokcie lakier termiczny #36 (1)
6. AllePaznokcie bez nr, baza pod caviour, słabe krycie (1)
7. nTn #47 (2-3)
8. Delia #158 (2-3)
1. Ebalay Rose Water (2-3)
2. nTn #27 (2-3)
3. nTn # N9 (2-3)
4. Lovely Crystal Strenght #402 (3-4) (07.2014)
5. Kand - lakier do stempli ale bardzo delikatny
6. Celia Floris #24 French (D) (1)
7. Sephora M15 (1)
8. Miss Selene #189 (1)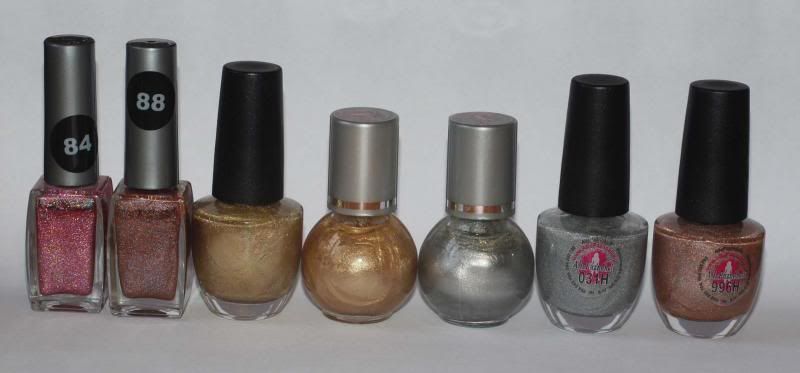 wszystkie pokazywałam na blogu
1. Allepaznokcie # 84 (1)
2. Allepaznokcie #88 (1)
3. Allepaznokcie #01 (1) (06.2014)
4. Allepaznokcie #046 (1) (06.2014)
5. Allepaznokcie #114 (1) (06.2014)
6. Allepaznokcie #031h (06.2014)
7. Allepaznokcie #996h (06.2014)
1. Golden Rose #299 (W)
2. Wibo Express Growth (D) (1-2)
3. Wibo Express Growth #169 (W)
4. Wibo Express Growth #480 (2-3) (10.2014)
5. Vipera Tutti Frutti #74 (D) (3/4 buteleczki)
6. Catrice #780 Welcome to Roosywood (3-4)
7. Jumpy #140 (D) (1)
8. Jumpy #126 (1) (08.2014)
KSIĄŻKI (pierwsza 16 stan bdb lub db):
1. Upadli - Lauren Kate
2. Martwy aż do zmroku - C. Harris
3. U martwych w Dallas - C. Harris
4. Opowieść o złodzieju ciał - Anne Rice
5. Pamiętniki wampirów księga 2 - L.J. Smith
6. Pamiętniki wampirów księga 3 - C.J. Smith
7. Kuszona - P.C. Cast
8. Wieczni Wygnańcy (nowa) - C.L. Smith
9. Wyklęta - Rachel Caine
10. W szponach mrozu - R. Mead
11. Przebudzenie o północy - Lara Adrian
12. Pocałunek o północy - Lara Adrian
13. Świat Nocy 1 - L.J. Smith
14. Świat Nocy 2 - L.J. Smith
15. Świat Nocy 3 - L.J. Smith
16. Piękne Istoty - Garcia Stohl
17. Wesoła czwórka - L.E. Blair (stan dobry)
*tom 1 - Witajcie nowi przyjaciele
*tom2 - Decydująca rozgrywka
18. Joanna Chmielewska - Lesio (też stara i nieco pożółkła ale w dobrym stanie)
19. Morska Twierdza - A. Norton i P.M. Griffin
20. Kolekcjoner - Tom Clancy - wydanie kieszonkowe
21. Hawajski Wir - Clive Cussler
22. Pierwszy Jeździec Apokalipsy - John Case
23. Ruiny Ambrai - Melanie Rawn
24. Dzieci Światła - Robert Stone
25. książka do nauki tańca Hakiel i Cichopek - jak nowa
*Seria książek Beverly Hills 90210 (stare, w stanie dostatecznym, jedna mocno sfatygowana i luźne kartki)
1. BH 90210 - to ta mocno sfatygowana
2. Bez Tajemnic
3. Co by było gdyby
4. Wesołych Świąt
5. Dwa serca
6. Te słodkie chłopaki
7. Więcej niż słowa
8. Życie nie pieści
* w języku angielskim :
1. W. Defoe - Robinson Crusoe
2. Dan Brown - Digital Fortress i Angels and Demons (wykupione
z bibliotek w UK- stan dobry z minusem )
3. Clive Cussler - Flood Tide (wykupiona z biblioteki w UK- stan
dobry z minusem )
4. Clive Cussler - Sahara - stan bdb
5. Melissa Bank - The Wonder Spot - stan bdb (twarda oprawa)
6. Clive Cussler - Troyan Oddysey - twarda oprawa (stan bdb poza delikatnym pognieceniem dodatkowej miękkiej okładki)
7. Clive Cussler - Fire Ice - stan dobry - wykupiona z biblioteki
8. Clive Cussler - White Death - stan dobry - wykupiona z biblioteki