Nie wiem jak Wy ale ja motyw pieska Snoopiego lubię bardzo.. :) Płyteczka którą dziś Wam pokażę pochodzi ze sklepu
Born Pretty Store
i przedstawia właśnie wzory związane ze ślicznym małym psiakiem :)
Płytka nosi numer czy też nazwę
RuiZ02
, kosztuje
$1.99
, a znajdziecie ją
TUTAJ
Cena jak na pojedynczą płytkę dla mnie jest ciut wysoka, ale to pewnie dlatego, że przyzwyczajona jestem do zakupu zestawów, które wychodzą korzystniej, no ale z drugiej strony tragedii też nie ma ;)
Tym niemniej cieszę się bardzo, że dostałam szansę jej przetestowania, bo Snoopy jest po prostu słodki, a w żadnym z posiadanych dotąd zestawów nie miałam wzorów go przedstawiających..
Płytka ma
nietypowy kształt
, bo w odróżnieniu od moich pozostałych płytek ta ma kształt ośmiokąta..
Do organizera Bundle Monster mieści się ale tak na styk - trzeba ją solidnie wcisnąć ;)
Jak inne płytki ta też miała
niebieską folię ochronną z przodu, ale nie ma żadnej dodatkowej warstwy z tyłu
, przez co końce są odrobinę ostrzejsze, ale raczej nie na tyle by można było się nią łatwo zaciąć..
Na płytce znajdziecie
8 czy też 10 wzorów
, w zależności od tego czy policzymy łapki oraz napisy Go Go osobno jako mniejsze i większe wersje, czy też jako całość..
Jakościowo płytka jest niezła
, choć nie jest to ta klasa co Bundle Monster czy Cheeky.. Bywało, że we wzorach miałam maleńkie miejsca nie do końca pokryte lakierem, tym niemniej nie były to duże niedoskonałości (widać to na zdjęciu stempli na kartce)..
Wzory z tej płytki podobają mi się bardzo.. Zwłaszcza same psiaki.. Jedyny który mi się nie podoba to ten cały ciemny Snoopy (odpowiednik tego w środku). Zdecydowanie fajniej wyglądają psiaki z detalami.
Tak prezentują się wszystkie wzory na białej kartce odbite czarnym lakierem Golden Rose Rich Color (wiem, wiem - pisałam że nie używam go do stemplowania i tak jest, ale na białej kartce daje radę ;) )
No i mani z użyciem tej płyteczki..
Baza to
China Glaze Snow
, czerwień to lakier
Golden Rose Holiday #64
Stemple wykonałam czernią
Konad
oraz lakierem
SpaRitual Intrigue
Do tego stempel z płytki
BM-425
na palcu wskazującym.
Troszkę krzywo wyszły mi łodyżki tych baloników z serduszkami ale to wina moja, a nie płytki.. Po prostu coś mi się przekrzywiło podczas odciskania wzoru..
Jak Wam się podoba?

Ps.
Nie zapominajcie, że korzystając z kodu
YJL91
możecie dostać

10%

rabatu na zamówienie w sklepie BORN PRETTY STORE.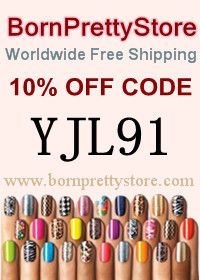 ten produkt został mi wysłany do zrecenzowania